Donny Osmond has been a very successful singer, actor, and dancer. He is best known for his work as a member of the popular singing group The Osmonds. Much of Donny's success was due to his charisma and natural ability on stage.
Donny Osmond is an American singer, actor, and businessman. He is best known for his hit songs "Puppy Love" and "I'll Make a Man Out of You". His career has spanned over five decades.
Donny Osmond has been in show business since he was a child, when most kids were still learning to ride the school bus in the morning, and in a six-decade career, he's made a name for himself in nearly every field of contemporary entertainment, most notably music, but also theater, film, radio, and television, and demonstrated that it's possible to grow and mature as a performer.
Donald Clark Osmond was born on December 9, 1957, to George and Olive Osmond, a devoted Mormon couple from Ogden, Utah. He was the seventh of nine children born to George and Olive Osmond. George Osmond made a career selling real estate and insurance, but he liked to sing and encouraged his sons to join a barbershop quartet when they became interested in music. The vocal group started performing on a regular basis in Utah, and they were invited to audition for The Lawrence Welk Show. Welk turned down the Osmond Brothers, but George brought them to Disneyland when they were in California, where they started harmonizing with a strolling barbershop quartet. The Osmond Brothers were excellent enough to get the notice of park management, and subsequently Walt Disney himself, and were selected to appear in a television program called Disneyland After Dark in 1962. Following that performance, he was offered a regular position on The Andy Williams Show, which he began later that year. Donny joined his elder brothers Alan, Wayne, Merrill, and Jay in the singing quartet in 1963, and they were regulars on Williams' program until 1969, as well as frequent visitors on Jerry Lewis' comedy-variety hour from 1967 to 1969.
The Osmond Brothers wanted their act to have a more modern appeal as they got older and the face of popular music continued to change, so they retooled themselves as a polished pop/rock combination, with the brothers playing instruments as well as singing. Mike Curb signed the Osmonds to MGM Records, and they traveled to Muscle Shoals, Alabama, to record with Rick Hall, whose credits included Wilson Pickett and Etta James, as well as Tommy Row and Paul Anka. "One Bad Apple," Hall's debut song with the Osmonds, was a number one smash in 1971, and it was the group's first of many chart triumphs. Because of the popularity of their well-crafted albums and energetic live performances, the Osmonds were often featured in teen magazines such as 16 and Tiger Beat, and Donny was frequently singled out as adolescent heart-throb material for his well-scrubbed good looks. Donny's debut solo single, "Sweet and Innocent," was issued in 1971, thanks to MGM's quick response. It charted at number seven on Billboard's pop charts, while the follow-up, "Go Away, Little Girl," reached number one. Donny continued to have solo successes while still touring and recording with the Osmonds, who grew more ambitious in the studio with 1972's Crazy Horses and 1973's The Plan, dipping their toes into harder rock and creating a spiritually oriented concept album. Marie Osmond, the lone Osmond sister, had her recoding début in 1973, with a successful song based on a version of "Paper Roses." The Osmonds' success was starting to wane in the famously fickle world of adolescent music by the mid-'70s, but in 1976, Donny and his sister Marie became the presenters of a weekly television variety program, with the other Osmond siblings appearing often during the show's existence. Donny & Marie was a ratings success, and they even appeared in a movie, Goin' Coconuts, in 1978. However, viewership started to decrease after the third year, and the show was cancelled in 1979, halfway through its fourth season.
Donny's career stalled in the 1980s, especially when a Broadway production of George M. Cohen's Little Johnny Jones, starring Osmond, collapsed after just one performance in 1982. Osmond went attempted to alter his image once again, making cameo cameos in Jeff Beck's 1985 music video for "Ambitious" and Luis Cardenas' 1986 video for "Runaway." Donny Osmond recorded a new album in 1989 when Peter Gabriel gave him use of his Real World recording facility in Bath, England, after meeting him at a charity event. The new album, simply named Donny Osmond, was a strong, dance-friendly modern pop record, but Osmond's management and record company were concerned that his bubble gum background might work against the album, so they devised a creative advertising strategy. The album's first single, "Soldier of Love," was broadcast to radio as a new song by a "mystery artist," and it received attention as listeners tried to figure out who the vocalist was. The gamble paid off: "Soldier of Love" became a smash success, propelling the album to the top of the charts.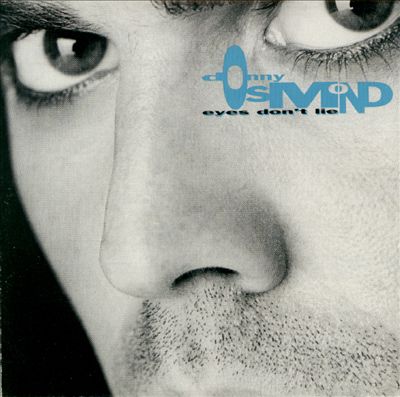 In 1990, Osmond released Eyes Don't Lie, a modern pop album that did well on the charts despite not being as popular as its predecessor. Osmond returned to the musical stage in 1992, starring as Joseph in Andrew Lloyd Webber's Joseph and the Amazing Technicolor Dreamcoat in a Toronto production; the show was a critical and popular success, with Osmond performing over 2,000 times between 1992 and 1997, and in 1999, when Webber created a film version of the musical for television broadcast and home video release, Osmond reprised his role. In 1998, Osmond voiced Shang in the Disney animated film Mulan, and on the autumn of same year, he and his sister Marie starred in a daytime chat show that lasted until the spring of 2000. Donny also went to the studio to record Christmas at Home, a holiday-themed album, and released his autobiography, Life Is Just What You Make It, in 1999, in which he candidly addressed the ups and downs of his career, the weight of his public image, and his battle with panic disorder.
In 2001, Osmond released This Is the Moment, a collection of Broadway show songs, and in 2002, he released Somewhere in Time, a collection of love songs that included a new version of "Puppy Love" (a hit for Donny in 1972) and "No One Has to Be Alone," which Osmond recorded for the animated film The Land Before Time IX: Journey to Big Water. In 2002, Osmond took over as host of the long-running television game show Pyramid, and in 2004, he released What I Meant to Say, his first album dominated by original material since Eyes Don't Lie, which included the song "Breeze on By," which charted in the Top Ten in the United Kingdom. In 2006, Osmond starred as Gaston in Disney's Beauty and the Beast on Broadway, receiving rave reviews, and in 2007, he joined Entertainment Tonight as a guest commentator, just in time to cover his sister Marie's appearance on the fifth season of Dancing with the Stars, where she placed third. Following Marie's appearance on Dancing with the Stars, she and Donny rekindled their performance partnership, launching a revue at the Flamingo Hotel in Las Vegas in 2008, while Donny made a surprise return to the big screen in Martin Lawrence's comedy College Road Trip. Donny won the grand prize on Dancing with the Stars in the autumn of 2009, and he followed up with a diverse new album, The Entertainer, in 2010, which included fresh renditions of his previous successes and pop classics, as well as a handful of new compositions. In 2010, Donny became the presenter of The Donny Osmond Program, a syndicated radio show that was aired in both the United States and the United Kingdom and was billed as "a lifestyle-oriented music radio show." Donny and Marie reunited in the studio in 2011 to produce their first album together since 1978, simply named Donny & Marie. He reappeared three years later with The Soundtrack of My Life, a compilation of versions of songs that have meant a lot to him over the years. He released the live CD Best of One Night Only in November 2017.
Donny Osmond is an American singer, actor, and businessman. He was born in Ogden, Utah on September 22nd, 1948. He has been married twice and has four children with his first wife. Reference: how many children does donny osmond have.
Frequently Asked Questions
What disease does Donny Osmond have?
A: Donny Osmond has a brain tumor. He contracted the disease in 2008 and was diagnosed with meningioma grade III, which is also known as encephalitis cerebri.
What is Donny Osmonds most famous song?
A: The most famous song by Donny Osmond is called Piano Man
Which Osmonds have died?
A: Osmond Brothers Olsen, Osmond Moxey
Related Tags
donny osmond children
osmond (brother died)
donny osmond siblings
donny osmond family
donny osmond wife